In each community the Women's Bank pool their savings combined with the contributions made by PDA and work collectively on small productive projects.  Late last year PDA's in country Program Coordinator Martina visited a number of communities to see how the Women's Banks are going and the types of productive projects the women are developing.
Many of the communities have purchased chooks to raise which help to supplement their family diet with eggs and chicken as well as generate a cash income through sales.  One of the main challenges with raising chooks is the spread of disease but through their experiences the cooperatives have learnt a variety of preventative measures which they are then sharing with other communities.
Some communities have purchased looms, fabric and cotton thread to make traditional skirts and tops which are embroidered with traditional motifs and sold to local communities.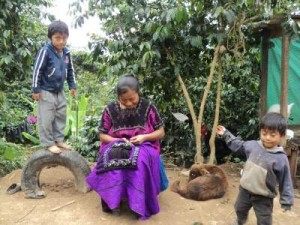 Other communities have purchased livestock such as cows and pigs.  The women purchase the animal when they are small and cheap and care for the animal until it is fully grown.  When the animal is fully matured the collective resells the animal for a significant profit.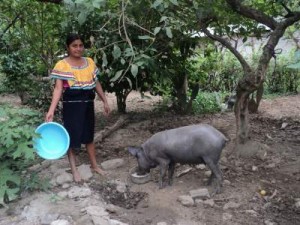 There are also some communities who have decided to open small shops to sell food and other essential items in their communities.
One woman from the community of Tzajaluk´um commented on the experience her community had working collectively.
"We keep our cattle near the river…. When we go there to care for them it is always either very hot or very cold but we don't care, working together gives us strength and courage.  We are inviting other women to join us so they too can benefit."